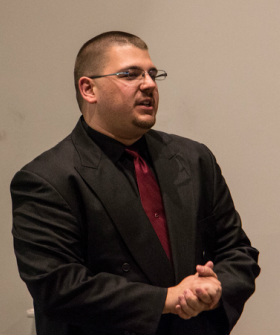 Luke Kalbach is the choral director and co-founder of Tono Dolce. He holds his Bachelor's degree in music from the University of Connecticut, where he spent time under the baton of Dr. Peter Bagley, Dr. Eric Rice, and Mark Singleton. While at UConn, Luke studied voice with Dr. Susan Quiggly-Duggan. Since 2012, Luke has also been Director of Worship Ministry at the Groton/New London International Church of Christ.

Luke has performed with numerous types of choral ensembles such as LHS Chamber Choir and Vocal Jazz; University of Connecticut Concert and Festival Choirs and Collegium Musicum; and the Vernon Chorale. As a tenor soloist, he has performed at numerous weddings and recitals. His experience includes all styles of choral singing - from 16th century sacred motets through modern vocal jazz. His own musical tastes have been shaped by ensembles such as The King's Singers, Vox1, Chanticleer, Bobby McFerrin, Amici Forever and Manhattan Transfer.

Luke is a proud father of two, his son Wyatt and daughter Solana, and is a long-time resident of Southeastern Connecticut. Luke appreciates his "home-town" and is committed to giving back to it. Through his work, he hopes to foster camaraderie in the community that lasts for many generations. Thanks to his first musical mentor, Dr. Jamie Spillane, Luke always encourages his ensembles to work hard and achieve their greatest potential, living by the mantra, "It's more fun to be good."


---
Jill Larson - President
Jill Larson is a Soprano and two-year member of Tono Dolce. She holds a Master's Degree in Social Work from The University of St. Thomas, St. Paul, MN and Bachelor's Degree in Psychology with a Minor in Music from The University of Wisconsin-RF. Jill studied trumpet under the esteemed Grammy winner, Chris Botti. She was also active with the UST orchestra and chamber choirs.
​
Jill has performed with numerous choirs, orchestras and musical productions. Some of the more notables are Mary Poppins, Annie and Rocky Horror Picture Show. Jill also spent many years singing in The Royal Irish Singers at renaissance festival s as well as performing with a juggling troupe.
​
Jill hails from Lakeville, Minnesota. She is a Licensed-Clinical Social Work Supervisor for Nurturing Families Network at L + M Hospital. When she is not singing, Jill enjoys spending time with her husband, LCDR Anthony Larson, USN and her 4-year old daughter, Liliana.


Cathy Saiff - Vice President
Cathy Saiff joined Tono Dolce as an alto in 2013. She has a Mini-Masters's Degree in User Experience Design from Rutgers University, a Master's Degree in Interactive Media from Quinnipiac University, and a Bachelor's Degree in Cultural Anthropology and French Studies from Bates College.

Cathy has been singing pretty much since the day she could talk, taking part in youth and adult choirs at church, performing in school and community musicals, and singing in all choirs in the Ledyard High School Music program. While at Bates College, Cathy sang in the Bates College Chamber Choir and co-founded a musical ensemble. In addition to singing, Cathy pays piano and has performed in recitals and accompanied choirs and friends in various musical endeavors over the years.

A native of Ledyard and Gales Ferry, Cathy is excited and proud to be giving back to the community through service and song. She spends her days as the Lead User Experience Designer at Registration and Titling Services, a local business unit of Cox Automotive located on Groton, CT. In addition to singing, Cathy enjoys playing volleyball and traveling the world with her husband, Josh.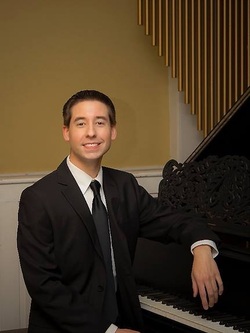 Jacob Troy
is an active pianist, organist and choral conductor based in Connecticut. He has accompanied numerous choral and instrumental ensembles, soloists, festivals, workshops, musicals, performed in chamber music settings throughout the area, and is on staff as Choral Accompanist for Old Saybrook Public Schools. Jake is currently Organist and Choral Accompanist at The United Methodist Church of Gales Ferry, playing for religious services and accompanying multiple choirs under the direction of Joy Lamb. Previously, Jake served as Organist and Director of Music at The First Congregational "Road" Church in Stonington, Connecticut where he directed the choral ensemble and played services for over six years. He holds membership with the American Guild of Organists and American Choral Directors Association. Jake also serves as accompanist for the community choral venture Tono Dolce based in Gales Ferry, Connecticut. He was invited to participate with CONCORA during their 2014 Summer Festival as both a baritone and pianist.A seasoned accompanist, Jake began playing for choirs at an early age while studying piano under Royden Wilkinson, and has collaborated with a wide variety of ensembles and soloists throughout his college and professional career. He has also played a number of weddings, funerals and other religious ceremonies across the region. In addition to his piano and organ work, Jake has taught music and directed numerous choirs at various levels in the public school setting, and regularly serves as accompanist for multiple public and private schools throughout the area.
Jake holds a Bachelor of Science degree in Music Education from Central Connecticut State University where he studied piano under Dr. Linda Laurent, choral music and conducting under Dr. Pamela Perry, and music education under Dr. N Carlotta Parr. During his tenure at CCSU, Jake was a member of the highly acclaimed CCSU University Singers, and performed with the group as a baritone during a concert tour of Spain in 2011.
Aside from his music work, Jake is active as a Volunteer EMT and 911 Dispatcher, and enjoys technology and running. More information on Jake can be found on his website,
www.jaketroymusic.com
.
---