Current Singers
Soprano Section:
Norma Donath
Patty Hans
Brittni Hyzer
Jessica Jarrett
Jill Larson
Sierra Libby
Meghan Norcia


Alto Section:
Kellie August
Deborah Betz
Emily Janacek
Holly Libby
Kelly McKee
Melanie Reas
Cathy Saiff
Michelle Thibeault
Tenor Section:
Stephen Johnson







Bass Section:
Roger Hanson
Wilf Kalbach
Tim Libby
Tom Lyon
Mark Schultz
Josh Wilson




Directed by: Luke Kalbach

Accompanist: Jake Troy

Board of Directors:

President: Heather Pollin
Vice President: Josh Skole
Treasurer: Ashley Kornatowski
Board Members: Paula Watkins, Cathy Saiff, Jessica Jarrett, Tim Libby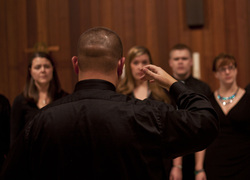 Interested in becoming a member?
Tono Dolce accepts auditions at the beginning of each season, around August and January. If you are interested, please contact us at
tonodolce@gmail.com
to request more information or to be given an audition time. We strive to make auditions as low-stress as possible, so even if it's been a while since you've sung in a group, give it a try!
---